The 5th EMDR Asia Conference
"EMDR Therapy, Rebuilding HOPE."

"ការព្យាលបាលតាម​ អុី. អឹម. ឌី. អា. ការកសាងក្ដីសង្ឃឹមឡើងវិញ"
ក្នុងគ្រាដែលងងឹត ក្ដីសង្ឃឹមបាននាំយើងទៅរកពន្លឺ។ ក្នុងមួយរយៈ ការរាតត្បាលសកលបានបំបែកពួកយើង ប៉ុន្តែពេលនេះយើងបានជួបជុំគ្នាវិញហើយ។
អ៊ី. អឹម. ឌី. អា. អាស៊ី មានសេចក្ដីសោមន្សក្នុងការចាប់យកឱកាសនេះ ដើម្បីប្រមូលផ្ដុំអ្នកជំនាញ អុី. អឹម. ឌី. អា ជុំវិញពិភពលោក មកកាន់សន្និសិទ្ធ អុី. អឹម. ឌី. អា. អាស៊ីលើកទី៥ ចូលរួមកម្មវិធីសប្បាយៗ និងចែករំលែកពន្លឺនៃចំណេះដឹងទៅកាន់មិត្តភក្ដិទាំងអស់គ្នា។
សូមអញ្ជើញចូលរួមជាមួយយើងនៅប្រទេសកម្ពុជា ដែលជាទីកន្លែងពោរពេញដោយវប្បធម៌ ប្រវត្តិសាស្ត្រ និងសេចក្តីសប្បុរសនៅតែបន្ត។
យើងទទួលស្វាគមន៍អ្នកដោយក្ដីរីករាយ និងចិត្តកក់ក្ដៅ ដើម្បីចូលរួមយ៉ាងស្វះស្វែងក្នុងសន្និសិទ្ធ និងជួយឲ្យមានភាពជោគជ័យ ជាស្ពានចម្លងទៅកាន់ការយល់ដឹងបែបវិទ្យាសាស្ត្រ!
In the darkest times, HOPE can lead us to the light. For a time, the pandemic separated us but it is now time for us to reunite.
EMDR ASIA would like to take the opportunity to gather EMDR professionals from around the world to The 5th EMDR Conference to participate in various exciting sessions and share the light of knowledge with our friends.
Please join us in Cambodia, where culture, rich history, and kindness persist.
We welcome you with open arms and warm hearts to actively participate in the conference and help make it a massive success on the path to scientific enlightenment!
Click the Link to register online
Click the Link to download the PDF file of "The 5th EMDR Asia Conference"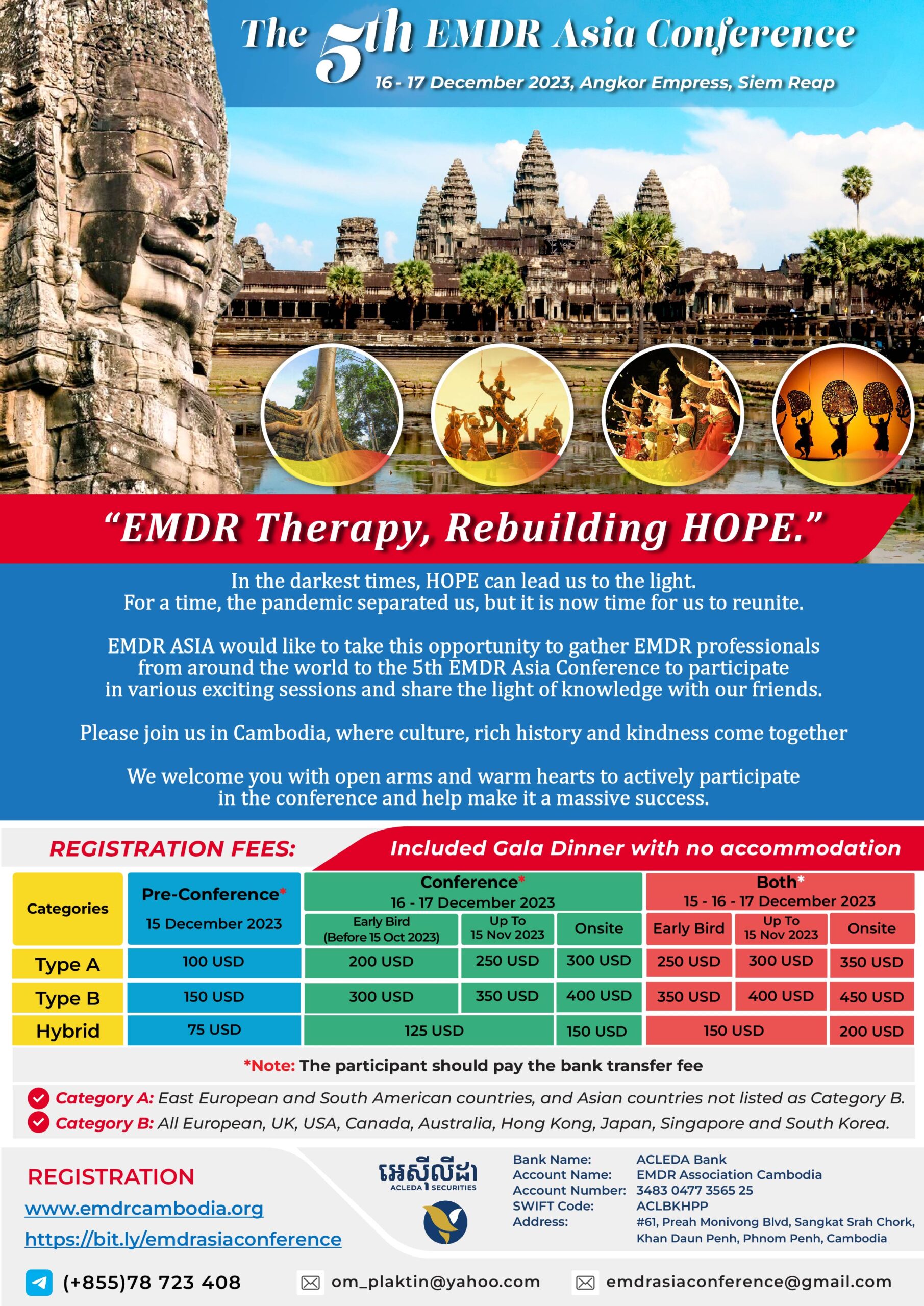 About Us
Eye Movement Desensitization and Reprocess for Cambodian People, or EMDR as it is called in short is a path-breaking tool in psychotherapy. Discovered in 1987 by Dr. Francine Shapiro in the United States of America, this method of healing has proven effective in the treatment of traumatic stress disorders and the effects of disturbing life events. Based on the evidence of controlled research, the American Psychiatric Association and the Department of Veterans Affairs and Defense recommend EMDR as an effective treatment of trauma. Most international health guidelines recommend EMDR as the first line of treatment for Post-Traumatic Stress Disorder. Most countries in the Americas and Europe have national EMDR associations to train, supervise, standardize, and upgrade EMDR practitioners. EMDR Cambodia consists of a group of professionals gathered to be a part of a healing service for better reduction of traumatic stress happening to Cambodia People. Read more
Vision
Contribute to improving the Cambodian people's mental health and well-being by providing appropriate psychological treatment and professional psychological support.
Next
Mission
Previous
Provide EMDR psychotherapy treatment to people with mental health problems;

EMDR Association Cambodia
Raise awareness of mental health issues, psychological trauma, and clinical counselling;

EMDR Association Cambodia
Strengthen the capacity of the mental health services providers through training, treatment and clinical Supervision;

EMDR Association Cambodia
Provide technical support to EMDR practitioners

EMDR Association Cambodia